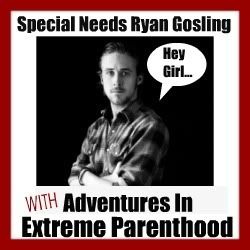 I am just going to come right out and say that this week has pretty much sucked ass.
My husband is getting worked to the bone at his job so he has been coming home exhausted and snippy, Sam has a bug bite that got infected and required crazy strong antibiotics which we have been having trouble getting him to take, and in the midst of it all I'm feeling rather like a chicken running around with my head cut off.
Thank God I have Ryan to distract me.
Don't mind if I do, Ryan.
Damn Ryan, you know just what to say to a girl.
If you haven't...what the hell are you waiting for?!
If you have your own post for this week's Special Needs Ryan Gosling please link it up below. If you have any trouble at all just leave me a comment with the link to your post and I will do it for you.
Peace out.