Dear Ryan Gosling,
I realize that the likelihood of you actually reading this letter are about a million to one. Chances are much greater that I'll be hit by a car flying through my third story window before you'll read this letter. And yet, here I sit still writing it out on the off-chance someone tracks down your publicist and they by the grace of God actually read it and present it to you.
To begin, I am sure you are wondering why I am writing you this letter. I'm not anyone special. I'm a thirty-six year old stay-at-home mom raising two boys with autism. In my free time I write a humor blog about parenting children with special needs titled,
Adventures in Extreme Parenthood
.
A few months back I stumbled upon some very funny photos of you with the words, "Hey Girl" written on them and then a sultry supportive comment. These pictures ranged from homeschooling, to crafting and even feminism.
On this particular day I was having a rough week and as I dried my eyes from laughing it occurred to me that there are a lot of things mothers of special needs kids would love to hear you say as well.
That day I created my first
Special Needs Ryan Gosling
photos and shared them on my blog.
Since that first day your photos and the funny "Hey Girl" words included on them have expanded into a weekly series on my blog and it has spread internationally and now includes dozens of disabilities, including: Autism, Cerebral Palsy, Sensory Processing Disorder, Attention Deficit Disorder, Epilepsy, and many others.
I have received countless emails, Facebook messages, tweets, and even a couple television and radio interviews all proclaiming how Special Needs Ryan Gosling has given special needs moms a chance to laugh, daydream, and express themselves with humor in a day to day life where many times it is very hard to find something to laugh about.
And I want to thank you for that.
Best of all, a number of moms tell me they have been reading the posters to their husbands and after doing so found them waking up early to take care of the kids, buying their wives flowers for no reason whatsoever, and helping more with the day to day housework that all too often falls to the wayside when caring for children with complex needs. It seems Special Needs Ryan Gosling has become a non-threatening way for wives to share with their husbands what they really need in a partner.
And I want to thank you for that.
When reading your biography online I noticed it said you struggled in school as a child with bullies and that you were home-schooled by your mom as a result. Bullying, as you can imagine, is one of the major fears of a mother raising a child with special needs. We have to put our children in the hands of others for a certain number of hours everyday day and trust that they are treated with respect and with compassion. Sadly, this does not always happen and when it doesn't it can be quite terrible.
Therefore, a large number of the "Hey Girl" photos I, and others, have made deal with these kind of sensitive issues. Some of your press photos show you with a look of steel in your eyes and coupled with a few words of warning for anyone who would dare hurt those we love leaves us feeling more powerful and confident when walking into an IEP meeting or other anxiety-producing situation. It amazes me that I can stand with conviction more easily if I imagine you standing there with me.
And I want to thank you for that.
In closing, I hope that someday I might be able to shake your hand and share with you some of the pictures that have been used to buoy the spirits of this mom (and countless others). Pictures that have given each of us the chance to laugh, to feel empowered, and to build a stronger
and happier
community of special needs parents taking it day by day.
And I want to thank you for that.
Sincerely,
Sunday E. Stilwell
Sam & Noah's mom
***************************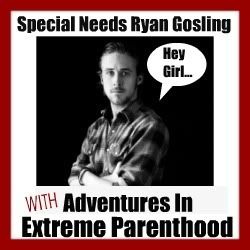 For those of you looking for this week's photo for Friday's Special Needs Ryan Gosling link up you can find it right here: