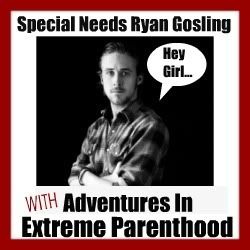 I cannot tell you how excited I was last week to see over twenty-five special needs bloggers link up to my first
Special Needs Ryan Gosling
meme. I honestly thought I might get five if I was lucky. We had self advocates and parents of children with various disabilities, including: Autism, PDD-NOS, Asperger's Syndrome, Deafness, Sensory Processing Disorder, Down Syndrome, and Cerebral Palsy. I couldn't have asked for a more diverse group if I tried.
I cracked up as I read Ryan's supportive words about fecal smearing, bubble baths, recreational use of a therapy swing, and ASL interpreting of a child's movie. Best of all, we even had one special needs dad join in (Tom of
Adventures in Asperger's
) proving that Ryan Gosling isn't just for moms.
I was overjoyed when I received emails and tweets from contributors saying their Special Needs Ryan Gosling post brought them more traffic and comments than they expected and that when visiting the other contributors they found new blogs to follow and engage with in the future.
This is just what I was hoping for when I started this meme. I want to grow our community and to come together over something we all need more of...LAUGHTER!
So, without further ado, let's get on to Week 5 of Special Needs Ryan Gosling.
Now it's your turn to join in on the fun again and share your Special Needs Ryan Gosling blog posts! Just like last time please include my blog button located at the top of this post and be sure to come back here and link it up. If you are unsure of how to link up just leave me a note in the comments with the URL to yours and I will do it for you.
Let's get this party started!